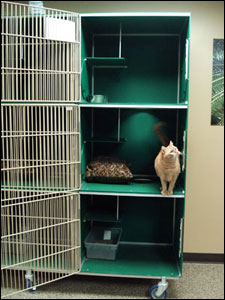 Our Condos include a raised loft area (because we all know how much cats like to look down on everything!) and custom–made fleece snuggler bed for them to curl up on. Since they cannot see any cats next to them, there is privacy galore. Your cat gets to come out of their Condo to get attention and explore the rest of the room twice daily while we're cleaning for them.
Soothing classical music is played around the clock for our guests. The Condos are two horizontally adjacent spaces joined together to make your cat's stay extra comfortable.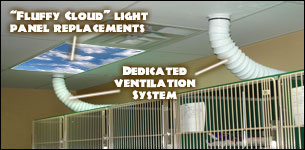 Also included is a dedicated ventilation system that supplies each condo with 24-7 fresh air to eliminate odor of sanitary areas as well as keep the odors of other felines out.