Pet Playground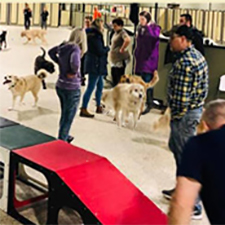 Let your dog to burn off some serious energy during the cold winter months.
This is so much more than your average Dog Park. It is climate controlled and all dogs are vaccinated to keep all the pets safe.
Drop in with your beloved dog for FUNgility Playtime utilizing our exclusive FUNgility Equipment. This is non-competitive FUN! We will have small FUNgility courses set up for playing and training, using the cube, tire, hurdles, tunnels, weave poles and more. The courses will alternate during various sessions.
This event is so much fun and can increase your bond with your dog while giving them a low impact challenge, burning off some energy, and allowing them (and you) the opportunity to make new friends.
Learn More and Register