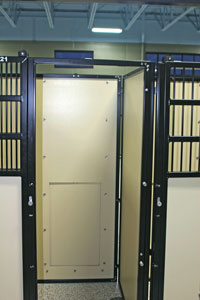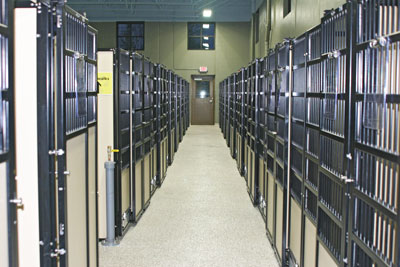 Our Lodge suites are custom made by our sister company, Stone Mountain Pet Products. Lodge suites come with built in water bowls that are filled frequently. Lodge suites are comfortable with good drainage and adequate space.   They're made of easy to clean and sanitize HDPE panels that prevent dogs from seeing each other adding to their comfort. They sit on a 3-part epoxy floor that is easily cleaned and disinfected.  All lodge suite are housed in a fully climate controlled space with tall ceilings, excellent ventilation and plenty of natural light from numerous windows.
Bedding is not provided in Lodge suites, so we encourage you to bring in anything from home whether it's your dog's bed or a blanket. Machine wash and dry fabrics are best.  Blankets and Kuranda Beds are available as an add-on options if you prefer.  We have full laundry capacity in case of an accident or spilled water.  Please, no irreplaceable items.
Toys are always welcome! Please note that the only restriction we have is if you bring in a rawhide for your dog, we'll take it away if it gets to a size where it can become a choking hazard.
All dogs boarding in a Lodge suite are attended to throughout the day for feeding, cleaning and potty breaks. All Lodge suite dogs receive 3 potty letouts by an activity staff with our basic program.  Potty letouts occur in the morning, afternoon and evening.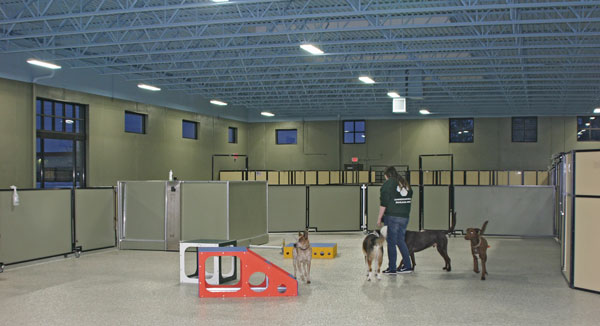 Some of our Lodging suites are located adjacent to our play areas for dogs that will be taking advantage of our doggy day care. Dogs in those suites have the option of breaks in their suite throughout the day.
Delights Plan
While Base Camp may be perfectly adequate, an upgrade might be just the ticket. The Delights Plan includes many great options each day (see Options & Add-Ons below). And don't forget: you can always mix and match options to suit your dog's specific needs.
| Overnight Plans | Basic | Base Camp | Delights |
| --- | --- | --- | --- |
| Lodge Suite | $47.80 per dog | $56.00 per dog | $68.80 per dog |

Pre-payment is required for all lodging check-ins. Check-in is available any time during our normal business hours.
Standard checkout on Weekdays and Saturdays is at 11 AM and 2 PM on Sundays. Half the daily rate will be charged for late checkouts.