Lodging Reservation Request

Want to reserve a suite for your pet online? Just fill out our Online Lodging Reservation form and your pet's stay will be confirmed by a Stone Mountain Pet Lodge representative.
---
Doggy Day Care Reservation Request

If you're thinking about making a reservation for your dog for doggy dau care, you can do it online. Simply fill out our Online Reservation form and your reservation will be confirmed by a Stone Mountain Pet Lodge representative.
---
Training Class Reservation Request

Would you like us to save a spot for your dog in one of our training classes. We're happy to help. Let us know which class you are interested in and we will contact you to confirm your request.
---
Grooming Reservation Request

Want to make a reservation for a grooming appointment? Fill out our Online Grooming Reservation form and a Stone Mountain Pet Lodge representative will contact you to finalize the details.
---
Whisker Ridge Reservation Request

Whisker Ridge is an exclusive Cattery and Cat Grooming Salon to pamper your favorite feline with love and care.
Make a Whisker Ridge Salon & Cattery Reservation Request
---
Vaccination Record Submissions

All dogs and cats visiting Stone Mountain Pet Lodge require immunizations. Vaccines must be given by a licensed veterinarian. First-time boarders should bring veterinarian documentation showing the due dates of the next immunization, which will be recorded for future reference.
You can view the Required Vaccinations here.
When you're ready, you can upload your files on by clicking Submit Shot Records link below.
---
Event Hosting Request

Stone Mountain Pet Lodge is a great place to hold your event! Each of our locations has space available for indoor and/or outdoor events. If you would like to speak to one of our Event Specialists, send us a note or you can give us a call at 763-493-2003 for more information or to schedule an appointment to meet in person.
Make an Event Hosting Request
---
General Feedback

Let us know what you think about our services, employees, or just share your general thoughts about Stone Mountain Pet Lodge.
---
Contact Us About Donations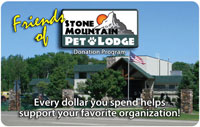 If your organization would like to partner with Stone Mountain Pet Lodge, email us at info@stonemountainpetlodge.com. We have great fundraising opportunities like silent auctions or our Friends of Stone Mountain Pet Lodge Donation Program.