Chester Bucks for Frequent Buyers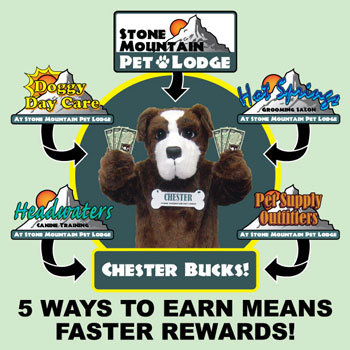 Earn More Faster with Chester Bucks,
our Frequent Buyer Rewards Program!
With 5 ways to earn points, you'll be rolling in the Chester Bucks in no time! Every dollar you spend on Lodging, Doggy Day Care, Grooming, Training and Retail accrues one point. For every 200 points you earn, you get $5.00 in Chester Bucks to use at your next visit to our retail store, Pet Supply Outfitters. Your Chester Bucks certificate will print automatically with your receipt once you've earned 200 or more points. Enrollment is automatic and free of charge!
Program Rules:
Chester Bucks are redeemable only on purchases from our retail store, Pet Supply Outfitters.
Chester Bucks are good for 60 days, starting the day after the bonus sale.
Chester Bucks are not valid with any other offer at the time of redemption.
Chester Bucks have no cash value.
You must present your Chester Bucks certificate at time of purchase to redeem.
Employees of Stone Mountain Pet Lodge and Larson Systems Inc., rescue clubs and event organizers are excluded from this program.
To learn more, call
(763) 493-2003